Event Guide in Ragnarok X Next Generation for Second Anniversary
According to the latest announcement from Nuverse, the publisher of Ragnarok X Next Generation, a list of updates and events to commemorate the second anniversary of this classic MMORPG mobile game will be rolled out. These updates are designed to address various concerns expressed by dedicated adventurers, such as class imbalance, challenges in taming pets, obtaining gold cards, etc. Furthermore, in-game and offline events will be included.
The First Bonus Events
The commemoration of the anniversary will commence on June 8 with the introduction of the first Bonus Event, encompassing a range of new game updates. The updates will be optimized and include the following changes:
1. Gold Card Spree Event: Engage in Daily Activity Quests to acquire a Gold Card without any cost.
2. Pet Gameplay Update: Simplifying the process of obtaining a pet, a 100% success rate will be guaranteed.
3. Star Card Upgrade System: Assembling a minimum of two identical cards will enable their upgrade into a more powerful Star Card.
4. Class Balancing Adjustment.
5. Introduction of a New Server.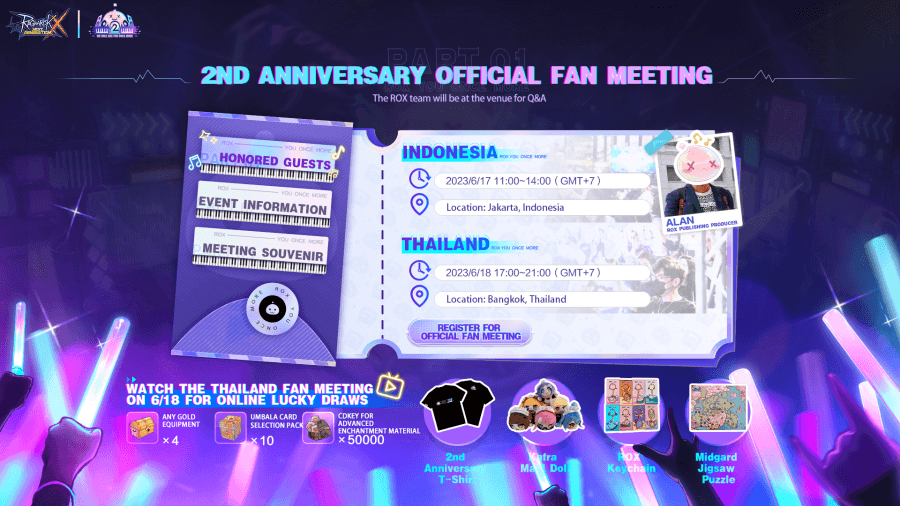 The ongoing celebration takes an exciting turn as Poring undergoes a transformation into X Poring, offering adventurers a fresh and captivating experience. To further enhance the celebratory atmosphere, X Poring has collaborated with Kafra to introduce a series of entertaining events that are sure to add an element of amusement to the occasion.
During the period from June 25 to July 9, the event titled "That Time I Got Reincarnated as a Slime" within Ragnarok X Next Generation will come back. This event will introduce an all-new multiplayer mode. Additionally, adventurers will have the opportunity to acquire new costumes representing notable characters such as Souei, Hinata Sakaguchi, and Shizue.
Exclusive Meet-and-greet Events
The second anniversary includes a series of exclusive meet-and-greet events hosted by the official Ragnarok X Next Generation team. These events are scheduled to take place in Jakarta, Indonesia on June 17th, followed by Bangkok, Thailand on the subsequent day. Adventurers attending these gatherings will have the unique opportunity to personally interact with the Nuverse publishing team responsible for the development of ROX, and they will also have the chance to receive complimentary game merchandise as a token of appreciation.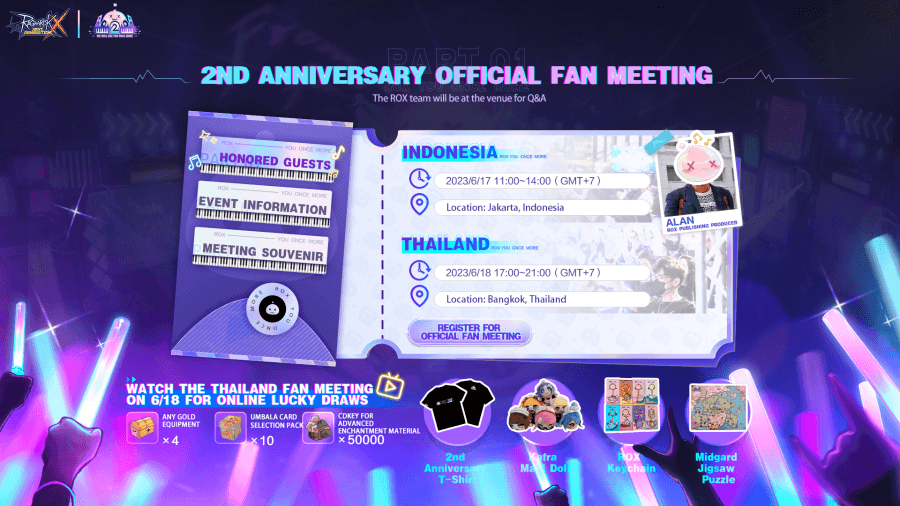 To ensure wider participation, adventurers can conveniently register for both events through the ROX official community platform. Additionally, each meeting will be broadcasted via a live stream, allowing those unable to attend in person to experience the excitement remotely.
The availability of free game merchandise extends beyond the aforementioned meet-and-greet events. Adventurers have the chance to showcase game characters from any Ragnarok series and become eligible to receive complimentary game merchandise as well. What's more, Ragnarok X Next Generation adventurers are able to win the grand prize of boosting the refinement level of any equipment to Lv.12.
It should be noted that adventurers keep an eye out for the ROX TRUCK. Since May 25, adventurers have been participating in a voting process to determine the cities in Thailand, Indonesia, and the Philippines that the ROX TRUCK should visit. The winning cities will be revealed in due course, laden with rewards and gifts of game merchandise, adding a delightful touch to this meaningful anniversary.